Jessica Sanchez can no longer win American Idol Season 11, or the program will appear fixed. And that would cause the public to lose interest in what has been, for ten years, an intriguing program controlled entirely by public votes once the field narrows to twelve potential victors.
From the very beginning of Season 11, Idol judges Randy Jackson, Steven Tyler, and especially Jennifer Lopez lavished extraordinary praise on the 16-year-old pop singer from San Diego county. And veteran record-executive Jimmy Iovine, Idol coach to the fledgling stars, proclaimed months ago that he would sign Sanchez to a contract "right now, tonight."
Certainly, the young chanteuse is preternaturally seasoned at the technical aspects of tackling pop anthems, and has immense vocal talents. But her song choices are rarely fresh or young or toe-tapping fun.
More important, Jessica Sanchez falls far behind five of the other six contestants (equally young Hollie is the exception) in expressing actual emotions while singing, or in connecting with the TV audience. In fact, the sweet, pretty songtress rarely peeks into the camera lenses at all. Shyness, perhaps?
Last night, TV viewers voted Jessica Sanchez, an America's Got Talent contestant at age eleven, off the 7-person American Idol island. I wasn't much surprised, and obviously, most of the TV audience felt likewise. She felt to me like the least likable, least appealing singer on the stage this week.
The judges were astonished, of course. Deeply astonished. That's to be expected, given their blind devotion to Ms. Sanchez, to the exclusion of contestants savvier at touching viewer sentiments.
But what happened on last night's elimination program was also astonishing in its arrogant disregard of voting viewers: Jessica didn't have to follow program rules, as did all other eliminated contestants. The judges deemed her above the rules that govern the remainder of Idol wannabes.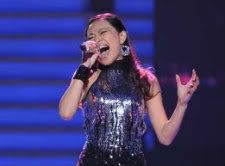 In tears, young Jessica began to "sing for her survival," when the judges, led by Lopez, stormed the stage, commenting that America was wrong, that it was "ridiculous" that she had been voted out. They felt it was beneath Jessica to have to sing for the "save."
"Vote for Jessica," Lopez repeatedly shrieked to the cameras. "She's one of the best singers in America!" Randy and Steven nodded in agreement, as they all huddled around as if crowning the Chosen One, hugging, comforting and slavishly complimenting her.
Huh? What happened to mentoring and supporting all seven Idol hopefuls? What happened to respecting program viewers? What happened to objectivity? Do the judges really believe that uncritical slobbering over any young singer-in-progress is constructive? Helpful to Jessica?
I feel badly for Jessica Sanchez, who, in truth, was the big loser last night.
Of course, the judges should have saved her. But they should have done so with fairness and consideration for all seven contestants, and they should have done so with thoughtful objectivity.
Instead, Sanchez now carries the aura of the Chosen One, a heavy mantle that could damn her chances of prevailing at the top. Should Jessica Sanchez win America Idol Season 11, her victory will always be tainted with suspicions that the vote was fixed.
And the judges are apparently annoyed that America isn't smart enough to agree with their choice.
Is this any way to treat an audience?
SHARE