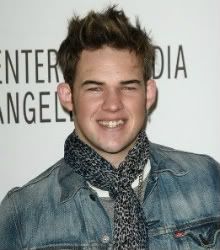 American Idol rocker James Durbin sings with joyous abandon and raw authenticity despite wrestling with both Tourette syndrome and Asperger syndrome, which is a high-level form of autism.
He sings beautifully, with perfect pitch, octave-soaring tones, ear-bending volume, and emotional range. Performing is the only time when the talented, sweetly charismatic 22-year-old Californian is entirely free from the tics and behavior challenges of his neurological disabilities. He's also apparently free of the slick, hip cynicism that taints music-industry creativity.
James Durbin's is a heartbreaking personal story: His father, also a rocker, died of an overdose when James was 9 year old… a father who spent more time on the road than home with family. "People say that I get my musical talent from my dad. Well, I'll never know," James commented on American Idol. His disabilities were diagnosed a year after his father passed away.
Raised with two sisters by his struggling, single mother, James found an outlet where he felt functional: music, especially community musical theater. In his northern California neighborhood, he's starred in such classics as Singing in the Rain, Grease, Beauty and the Beast, West Side Story, Sweet Charity, Fiddler on the Roof, and My Fair Lady.
At age 19, James fell ferociously in love with Heidi, a young woman who radiates with love and support for Mr. Durbin. She believes in him; he calls her an angel. "I was 19 [with] no car, no money, no license, no diploma. I was as low as you could get. I met her and everything changed and I wanted to be a better person," he told People magazine. They dote on young son Hunter.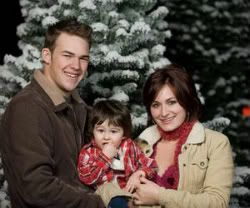 Times have been tough, though, and neither has found a steady paycheck. "I don't have a job and we're doing what we can to get by. There's been times when we can't even afford to get diapers," he admitted.
Last week, James Durbin was eliminated from American Idol, the third time in ten seasons that an extraordinarily talented rocker was voted fourth place in American Idol, behind blander, tamer Idol contenders. The other two disappointed rockers, Chris Daughtry in season five and Alison Iraheta in season eight, moved forward to music industry success.
Undoubtedly, James Durbin will likewise land a lucrative recording contract and enjoy commercial triumph. The last few weeks of American Idol – season ten, though, will be notably duller without Mr. Durbin's rich artistry.
But talent alone is not what I admire about James Durbin on American Idol. His infectious enthusiasm. His tenacious drive to overcome steep odds against a disabled young performer. His unabashed affection for Heidi and Hunter. His thrilling habit of giving all to every performance. Those I will fondly remember about James Durbin.
On the morning after his American Idol elimination, Mr. Durbin tweeted, "It's ok. To all my fans, I LOVE you ALL! I'm Optimistic Prime! Time to get to work! Thank you for EVERYTHING!"
James Durbin's is, indeed, a heartbreaking personal story. But it's also a spirited can-do story as All-American as apple pie and baseball. And possibly as memorable, and rawly authentic, as that of American icon Elvis Presley.
SHARE