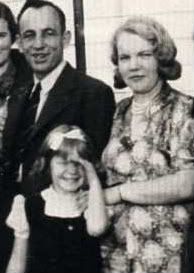 Continued from Part One:
Crazy Woman Blog Post on June 30, 2005
Armed with enough verified data to begin searching for living relatives of Fay, I penned my now-infamous June 30, 2005 blog post which began:
"Her name was Fay Louise Bensfield, and she died in 1984 at age 75. She was my grandmother, I never knew her, nor did she know me.

"But I always wondered about her….Was she happy? Kind? Pretty? What was her ancestry? Did she have other children or grandchildren? Was she loved and loving?"
Ten days later, Mr. Dick Bensfield left the following comment:
"I suspect the Fay Bensfield was my aunt, married to Ray Bensfield. Fay had two children-Beverly and Bob, both adopted (I believe) by my uncle Ray. Does all this ring true?
Hollywood Writer Connection
Elated, I sent several emails to Mr. Bensfield, but he never replied. Like able researchers these days, I googled Mr. Bensfield, and discovered a treasure trove of intriguing info about the only plausible person with that name. Per the Internet Movie Database (IMBD), Dick Bensfield is a retired TV writer and producer… one who enjoyed a prolific, 40-year career crafting a long string of famed Hollywood sitcoms, including:
Ozzie and Harriet (1952-66)
The Andy Griffith Show (1967-68)
I Dream of Jeannie (1969-70)
Mayberry R.F.D. (1968-71)
Love American Style (1971-73)
The Partridge Family (1972-74)
The Odd Couple (1970-74)
Happy Days (1974-75)
One Day at a Time (1975-84)
As a UCLA film school graduate, I was impressed by Mr. Bensfield's talent and Hollywood staying power, but realized that he's not a blood relation. But he was my first contact with someone who remembered Fay, a person who verifiably knew Fay, albeit distantly.
Ultimately, I would locate and have contact with two more people who remembered Fay… including one who lovingly called her "mother" until her 1984 death. But that was only after I experienced five frustrating years waiting to find Fay and her family.
When Dick Bensfield went silent, I assumed he thought I was misguided or mistaken. Or worse, a star-struck stalker. You see, my mother's birth name was Jacqueline, not Beverly. Further, while my mother's birth certificate does, indeed, indicate that Fay had a son, no other daughter is mentioned.
The connection instinctively felt right to me, though, for no rational reason. I intuitively knew that Mr. Bensfield had gifted me with important clues: the names Beverly, Bob and Ray, all Bensfields.
Genealogical Dead End
For much of 2005, I scoured innumerable databases and yellow pages, and scrutinized Ancestry.com, then a fledgling genealogical research tool. Nothing. I googled and googled. And googled more, to no useful avail.
I sadly set aside my search for Fay, and reluctantly reported to my mother the limited findings about Fay. I had very little information about Fay's family, and found nothing about the shrouded circumstances surrounding her own birth.
Mother was gratified and mildly interested to learn that her birth mother, Fay, passed away in 1984 at ripe age of 75 in Camarillo, California, within driving distance of our family. That Fay was apparently blessed with a long marriage, and moved on to raise two children.
That she probably had a sister, or half-sister, provoked a shocked confession: years ago, my father may have seen Beverly. My mother and father had always since secretly wondered if she had a sister.
A Sister or an Apparition?
When Dad was in downtown Los Angeles one 1970s morning, he spied a woman crossing a busy street who, in his words, "looked exactly like your mother. Exactly!" Stunned, he stared, scarcely able to believe his eyes.
He memorized her movement, her gestures, her body and face and and loose auburn hair. She was the embodiment of my mother, who he married in 1948. She even appeared to be the same age. Dazed, he watched as she disappeared. He never forgot, and he never once doubted that mother's look-alike was real.
I thought we were at a genealogical impasse. The search was undertaken to answer my mother, and she felt half-satisfied and strangely incurious. Her lukewarm response was prompted, I later realized, by ambivalence often felt by adoptees toward the birth parents who gave them away. And prompted by loyalty to the loving, good people who raised her.
Oddly, I wanted to learn more about Fay. I felt an unexplained stirring… a deep, unrequited yearning to learn more about my birth grandmother. About my heritage. About my blood relatives. About where and who I came from.
Searching for Myself
Looking back, I now understand that in late 2005, my mother's search for Fay Louise Williamson Bensfield became my search, too. I felt drawn, as if by an invisible force. I kept the correspondence and my notes. Searching for Fay was temporarily tucked away in memory. Like my father, I never forgot.
Almost five years later, as my mother slipped into her 80s with ever-faltering health, Fay returned to mind.
In spring 2010, I again googled… Fay, Ray, Bob, Beverly… with no results. I searched for their names using a powerful new networking tool: Facebook. And thank the good Lord, yes, one Robert Bensfield was a Facebook denizen.
Could it be? Could he possibly be my mother's brother by birth? Fay's son, who would surely have known her? My uncle, who I never knew? (I've never had an uncle in my life.)
Per Robert Bensfield's Facebook photo, he was about 80 years old. Smiling, attractive and neatly dressed, he stood with family: wife, daughter or granddaughter, a small baby. He appeared approachable, happy, vaguely familiar. His favorite saying was "The Journey of a 1000 miles begins with the first step." His words fatefully drew me toward him.
Nervous but fiercely hopeful, I drafted a carefully worded, non-stalkerish Facebook email in which I cited very specific information about Fay, but never mentioned my mother. I also clearly identified myself, including home address and phone number. I recited a silent prayer, and clicked "send."
Three months later, long after I had forsaken all hope, I received the following email on August 14, 2010:
"I am the Robert Bensfield for whom you are searching. How can I help you?"
To be continued…
Related Essential Reading
SHARE