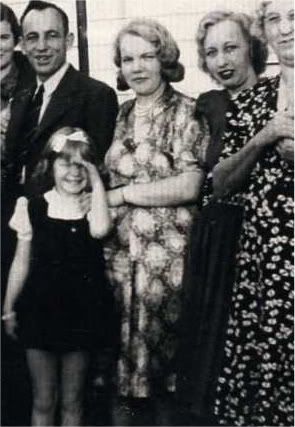 The woman pictured at right, in the middle, is my maternal grandmother who I never met. My mother was adopted, and this woman, Fay Williamson Bensfield, was her birth mother.
I received this late 1930s photo via a warm email last week from her nephew by marriage. The surprise email was sent in response to a 2005 Crazy Woman blog post which explains the beginnings of my search for my mother's family roots.
I've learned much about Fay since I wrote that emotional post in 2005, but until last week, I had never seen her face… which looks eerily like mine, according to Andrea, Ron and several others. Twenty or so years ago, anyway.
Her nephew, a well-established East Coast attorney, describes her personality as "outgoing, quick-witted, and big-hearted. She had a great laugh." Which sounds eerily like me (on a good day).
Growing up, I was unlike anyone else in my family…in looks and tastes, in humor and optimism, in temperament and emotions. Perhaps I was made in Fay's mold.
Gazing at Fay… her Mona Lisa smile, curled blond bob, four strands of pearls, slightly plump arm reached out to comfort the daughter born after my mother… brought tears to my eyes. She's beautiful to me. Really beautiful. And familiar.
Fay passed away at age 75 in 1984, so I'll never experience the joy of meeting her, at least not in this life.
But my angst at never feeling her pillowy hug is small compared to searing pain she must have endured when, as an unwed young woman, she surrendered for adoption the baby girl she gave birth to in 1929. The baby girl who is my mother. The baby girl she never again saw or met, but undoubtedly loved in secret for the rest of her life.
I thank Fay for her sacrifice to give a more stable life to my mother and thus, her three children, seven grandchildren, and two great-grandchildren. My prayer is that she is watching down over us all… over me… and laughing with joy at what she sees.
SHARE