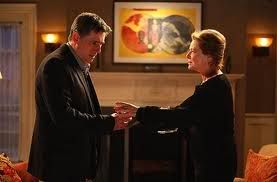 My new TV addiction for the Fall 2010 season is HBO's In Treatment, starring Irish-born actor Gabriel Byrne as therapist Dr. Paul Weston.
Darkly attractive in middle age, accomplished thespian Byrne is a brooding marvel of bemused intimacy and soft-edged wisdom as he counsels and cajoles three patients over four weekly back-to-back 30-minute segments in this, the third season:
Sunil, a retired Bengali professor whose wife died two years ago. Sunil, a witty traditionalist, left India to live in Manhattan with his son and daughter-in-law, a rushed, dual-career couple with two kids.
Frances, a fifty-something actress portrayed by film actress Debra Winger of "Terms of Endearment" fame. At turns funny, self-absorbed, maternal, vain and jealous, Frances seeks out Dr. Weston because she's experiencing problems remembering her lines in a stage revival of "Night of the Iguana." Dr. Weston steers into examining Frances' relationships with her teenage daughter and her cancer-stricken sister.
Jesse, an adopted gay teenager with loads of creative talent, a buried but quite-alive moral compass, and a birth mother who wants to meet him. Impulsive, provocative yet charming and cell phone-dependent, Jesse continually tests those around him to emotionally calculate who "has my back."
In the fourth segment, Dr. Weston grudgingly submits to therapy to address his own challenges, real and imagined, with parenting, health, dating and patients.
TV viewing as voyeur on intimacy, warmth and vexation between therapist and patients is mesmerizing and deeply addicting, especially for anyone familiar with therapy or marriage/family counselling. On the whole, the acting is startlingly first-rate.
HBO – In Treatment, Monday and Tuesday evenings. Shown again during the week.
Awards – In 2008, Emmy, Golden Globe and Writers Guild awards. In 2009, a Peabody award for for excellence in radio and television.
SHARE